THE SNAKE UNCOILED

By Georg Kickinger

anoint me with the tears of henbane
coral mountain wilderness stripped bare
in pursuit of your tenting, i am the hunted
nightshade fragrance in your cleft's bloom
on burial grounds, drink goblets lustfully
skinning the flames from angel's trumpets
dust your butterfly wings in my cedar grove
turkish gazelle amidst fields of syrian rue
the mandrake girdled by silken linings
you uncoil the snake, feed me venom
from your darkest ergot grains ablaze
i lick perfumed gardens, painted nettles
glory of the morning, spread your wings
thrusting flower buds to fermentation
we climb the vines of serpentine smoke
fuck me perfectly senseless and awaken
the thorns of the apple tree in your mouth
whipped by juices of a mango ripened
you thread the bones of a bird into my neck
when fondled blind in the amber of hexing
i want to double stroke your amanita
to hear you scream, i burn my seeds
sink your fangs into my throbbing veins
over the yellow resin hemlock stream
we ride our vessel of ashes and sweat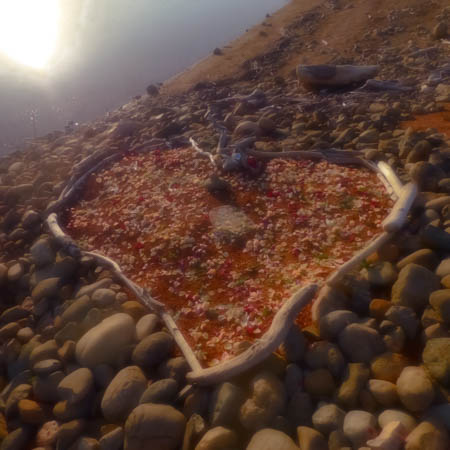 Photograph by Georg Kickinger




MY TONGUE ON THE CALYX
OF YOUR SWEET VENOM

By Georg Kickinger

you spread your legs wide, backseat of the car
neon lit parking lot, far from white picket fences
we stake a claim in the embrace of a silence
immune to the van next to us moving
shipment for dreams that only come true
in the heat of two bodies so fiercely aflame
the engine overheats when standing still
while you sing your bird into my mouth, I drip
feathered caresses over your silken rainbow
licked real by the warmth of the hearth
I am a dervish that spins a thread from hope
you weave over the moon's deep red shadows
on marble skin reflected in surrender
the windows are getting steamed and you
moan your thirst so softly, tears flood my cheeks
as a man steps out from behind a tree
to receive goods that he has paid for
in advance, I press your cheek against my chest
and meet his gaze, he doesn't challenge
the thunder that bolts a ghost to its chains
when I feel your fingers slide over my wrist
maybe you want me to fasten the rhythm
to the beat of your heart, I draw my arcs
and stroke a slightly different angle
carefully probe your request — when
your hand slides into mine, hold it tightly, come
take me, in the rip tides underneath your waters
I trust completely and lick you this night
one thousand and one times unraveled
your body, a blossom rain in my arms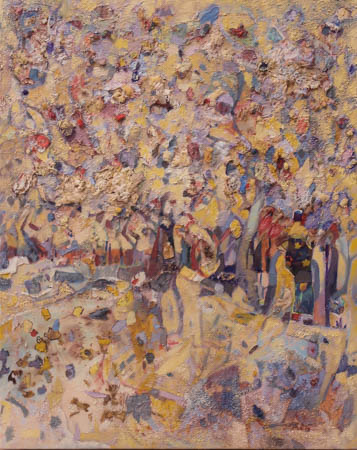 Art by Georg Kickinger




WHEN YOU FUCK ME

By Georg Kickinger

the amber glow of your skin casts
a steaming blood red blossom moon
on the marshes in between your folds

I am the bird that shed its wings
licking dark wild honey, I bend
from the bow of your body's strings
silken reed moans into my hand

over this promised bloom you drip
sweet salt plowed from coral tears
set aflame on your burning lips.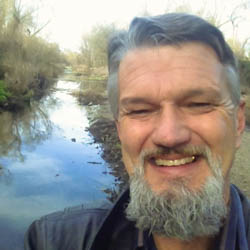 Georg Kickinger



Georg Kickinger, born in 1960, is an Austrian native. Poetry has been an important part of his life since his teenage years. Poetry's impact sent him to a monastery in the desert between Tucson and Nogales, AZ for a year. After that he went on to an apprenticeship in art conservation in Sweden and made two trips around the world. He settled in Topanga Canyon, Los Angeles in 1996, adopted a daughter in 2000, and moved to Northern California in 2005. Georg says,
"Several years ago, I made a walk through what I call the empty well. During that time, I was stripped of most things that had been important to me previous to that. I rediscovered a love of my youth, poetry. I spend my time painting, driving in circles through the foothills, and writing poetry when I am not exploring parks and parking lots."
He currently lives in Sacramento.