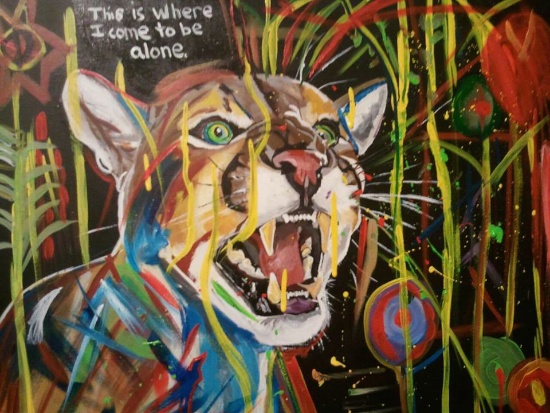 This is where I come to be alone by Jason Hardung
DOPAMINE DROUGHT

By Jason Hardung

Celexa makes it hard to fall in love. I can't decide if I'd rather be touched or not depressed. My libido thrives in sub-tropical climates. Famine starts in the mouth and ends on the bedroom floor. I am in my boxers painting a baboon with acrylic paints on a Friday night. Before I turned 40 I beat myself up for all the things I have done—as a teenager I pulled a gun on 30 gangsters at a party (the cop said 40), robbed a biker of Oxycontin , a guy who kept a loaded pistol under his couch while he slept off his dental implant surgery, ruined my credit because someone told me this country was free, broke someone's heart—now she believes I was a figment of her imagination. Now I beat myself up over things I haven't done—travel to Europe on grant money, have a half hour comedy special on Showtime, study arthropods and supermodels in South America with my shirt off and the sun on my neck, stay in school until they name the library after me, remain in love until my DNA changes. Everything I have liked on Facebook is out there somewhere ready to be liked in real life—so many obscure cats to pet, so many mountains to take pictures of and say, "I want to climb that someday." I want to chase storms, oust a president and topple a statue of myself in the square. I heard that blood spilled on hot pavement smells like chocolate cake and that time seems to move faster the older you get. I want to produce my own dopamine again. I need to borrow your jumper cables to spark my neurotransmitters. Then I'll be on my way.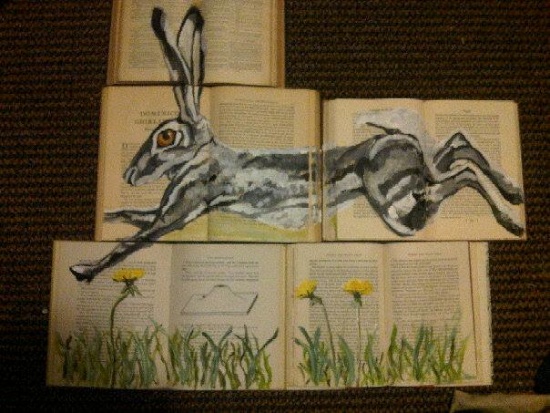 Run Rabbit Run by Jason Hardung
ELBOWS

By Jason Hardung

This fucking guy and his elbows. Deer don't happen to wander towards the barrel of the rifle and happiness doesn't wander near a scientific formula. Technology has taken the ruse of the human face. Remember, reality is just a word for nothing left to lose. Fuck it happens mostly in bed as I take inventory of my lack of accomplishments, as I stare at the tree branch hanging a few feet from the window bouncing all leaf spring like its 1932 and the road is rutted and once in a while the moon is out there, other times it's not. A day doesn't go by that I don't look down on myself for standing outside of high culture's window looking in—for being from a small town, for my ancestors never striving to be more than average farmers with dirty fingernails—coming from the least populated state in the union. Let's say—dust bowl refugees sprung into the digital age. It's mostly bullshit when high pedigreed people say you can become whatever you want to be. Genes carry a certain sadness from one generation to the next. My time machine never works when it's supposed to. Not to mention a lack of fortune. Peasants will be peasants. Hicks will be hicks. Have I told you about the homeless guy in here, Dave? His knobby elbows remind me of how weak he is, his weakness reminds me of myself, his poverty reminds me how unattainable certain things are. In here there are photos of wolves on the wall and none of them look hungry. The only magic I believe in are shit storms—irreverent and unpredictable, a homing device—the colic wind.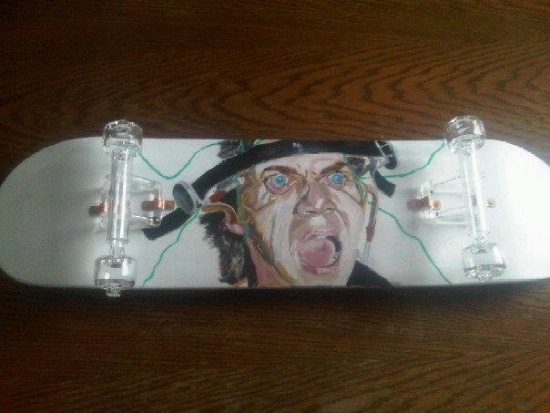 Psyched by Jason Hardung
MY ATOMIC AGE

By Jason Hardung

I watched a man on the edge of a tall building
I shivered from lack of dope
the cops shielded their eyes from the sun
while they talked him down.
I called the doctor
and told him I was sick
I was done.
I drug my bones to rehab in a red wagon.
The old Indian counselor told me to take a shower—
my pores sweating modern chemicals.
A guy with half a face talked from a hole in his blank stare
said the shotgun didn't work.
I am Jason
I am an alcoholic addict.
I had a crush on a pregnant 18 year old
my emotions drove around in hand me down cars.
I began to feel again.
My confidence came back—
a homing pigeon in a tornado.
I went to college.
I lifted weights.
You should've seen how good I looked to myself.
Weight gathered upon my bones.
The women noticed me
I was a man.
I got my own place.
I still didn't know how to pay bills.
My inner child was a teenager sneaking cigarettes
late night blowing smoke from tall windows.
My poems came back at first
like dreams barely recognized
then like bullet trains through sleepy mountain villages.
People took notice
and I began to be published.
I felt powerful on stage
reading about all the bad times
laughing like it wasn't me.
I spoke to classes
I pretended I was somebody
I met a woman with three kids
and crooked front teeth—
I teetered on the edge of American norm.
I wrote my life story on the back
of a matchbook.
I punched a rear view mirror.
Abandonment issues
trust issues
surfaced-
trilobites in a dry river bed.
Two wrongs don't
make a healthy relationship.
I rode my bike at 4am.
Kansas City
and the fireflies with asses like shooting stars
Hartford—
witnessed the hotel being robbed.
She dumped me—
I wasn't a father figure
I didn't want a ranch style home.
The audacity of hope.
Change
change
the night of the election
she went back to meth
and never looked back.
I got drunk.
The wolf asked if I was her pimp
I choked him against the wall.
A 9mm inches from my nose
I said pull the trigger motherfucker.
He didn't.
I kicked the door.
Lonely days in jail
Second degree burglary
class three felony
judge to me, "you
are a danger to society."
bail set at fifty grand
looking at four to twelve years in the pen.
Couldn't make my reading at the Bowery
Philly
Cleveland.
Looking at the mouth of prison—
"boy you have a pretty mouth."
I watched prison shows to condition myself.
I thought of prison names
Tiny was already taken.
This time I prayed to fucking die
please just let me die
God
I can't take a cock in my ass
I can't take lack of freedom
I can't take the sound of nothing.
I was robbed
on New Year's eve.
Lost all my writing
but somehow
I kept clean
hired a lawyer.
Got probation
anger management
kept writing
wrote a book of poems
made from bullet fragments
and glass figurines—
"the broken and the damned"
Stranded on the fire watch
I can see the ships in the harbor
I'm landlocked
the foothills are small nods
in an epic dream
I am small
I am gorgeous
I saved a bird
that lost it's feet.
I bought a hat
grew a beard—
It's so beautiful here.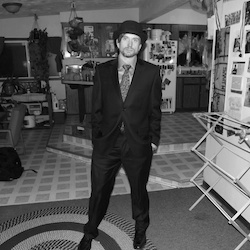 Jason Hardung's work has appeared in many journals and magazines including: 3AM, Monkey Bicycle, Evergreen Review, Metazen, New Wave Vomit, Thought Catalog, Word Riot, Thrasher Magazine, Heavy Feather Review and New York Quarterly. He has two books of poetry out on Epic Rites Press and Lummox Press. He has been an editor for Wolverine Farm Publishing and the Front Range Review in Ft. Collins, Colorado where he lives in a commune. In 2013 he was voted Poet Laureate of Ft. Collins. He started painting in 2011 and has shown his work in various galleries, coffee shops and bars around Ft. Collins. He hopes he never learns technique or how to be a real "artist."