THE USED-MIRROR STORE
by Kathy Kieth

They have some good buys there: mirrors
with gilt frames or beveled glass: good silver,

seductive or pleading: high-tone reflections or
cheap ones, ready for retirement: designer

beauties or full-lengthers or three-ways
framed in black or bronze or economic

plastic… Still, I couldn't bring any of them
home: couldn't look into all those faces:

old men and babies and suicides: newlyweds
and happy triplets, contented or angry or

dispossessed: all those faces hanging
in the air at the used-mirror store—

I just couldn't face them all: couldn't bring
any of them home…



HOUSES IN DISARRAY
by Kathy Kieth

hunker into the weedy landscape of rusting
vehicles that clutter the tired lawn like

worn-out yard art while barking dogs
pace the fence line, undisciplined in their

cheerful, casual aggression. Once you cross
the chaos of the porch (windchimes and

flower pots), there is more dust and debris
inside: gauntlet of books and unmet goals:

expensive against the cheap, antique and
just-plain-old. This house is a life:

nothing tidy or organized: crazy-quilt
of bright and corroded: clean and, well, not—

lifelong layers of dust and rust and disarray
where you can sink into the couch, put your

feet on the coffee table, and set your beer bottle
just about anywhere…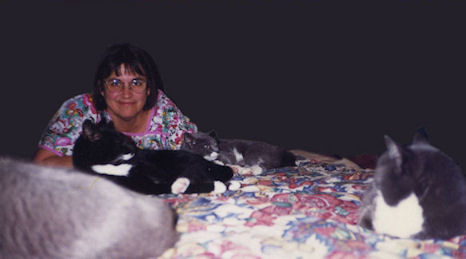 Kathy Kieth has lived most of her 63 years in the hot Sacramento Valley, where she has been a musician, music teacher, music therapist and psychologist. She has published poetry in many journals, such as Atlanta Review, Cimarron Review, Slant, Ekphrasis, PDQ, and Sow's Ear. She has four chapbooks, plus one forthcoming at the end of 2009 from Tiger' s Eye Press (Emily And The High Cost Of Living). Kathy is a Pushcart nominee who now lives in the mountain community of Pollock Pines, 60 miles to the east of Sacramento. She also runs Rattlesnake Press, which publishes the quarterly Rattlesnake Review and a variety of chapbooks and broadsides celebrating Northern California poets and their poetry.