Vanishing Point
by Matt Veazey

I watched you lift off in 1968
From the cracked concrete porch
Of your Grandmotherís house
On the corner of Beaver and Fine
Six years under your belt
Matching feaux pearl handled Hubley
Cap pistols slung low
In their tooled leather holsters
Loaded and ready for business
Rising slowly at first
Doggedly fighting the forces of gravity
The plain yellow stitching
On the horse hide cowboy boots
You always favored
Clearly visible as you cleared
Those two Douglass Firs
In the front yard
Picking up speed
Spinning to achieve
A trajectory towards Venus
The ostrich plumes on the brown velvet
Hat you were wearing
Pinned back like a frightened dog's ears
Reaching for the sky
Willow switch firmly in hand
Smiling your broad beautiful smile
The smile that turns your eyes
Into little upside down sliver moons
As you passed into the upper atmosphere
At a high rate of speed
Boosters successfully separated
Your plaid magenta western shirt
With mother of pearl snaps
Now barely visible
As you rocketed towards space
Button down 501ís
Torn at the knees
Protecting you from particles
Phosphenes and friction
Breaking into the acrid vacuum
Of the Milky Way
Leaving only your vapor trail
To dissipate slowly
In the wake of your departure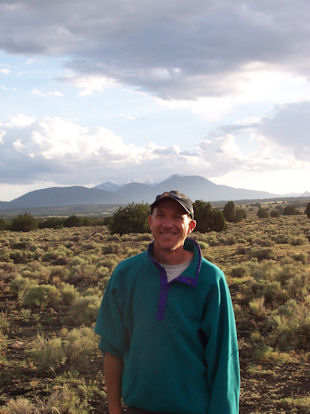 Matt Veazey studied creative writing at the University of Arizona in the 1980s, and his poems are influenced by his love of Western landscapes. He now lives in Sacramento where he occasionally reads his work. His poems have appeared in Poetry Now.
Photography by Matt Veazey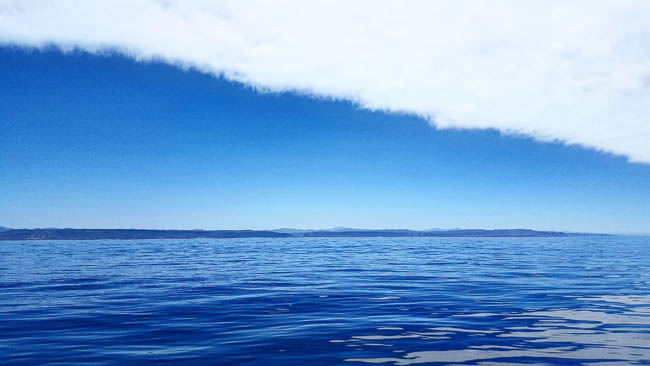 Sea-Sky