SNOWSHOE IN SUMMER
by Jeanine Stevens

Genoa, Nevada

In this high desert,
the marker we find tight
against the base of the Sierras.

Modest, the stone stands alone,
perfect for one who loved solitude.

The name seems newly chiseled:

Snowshoe Thompson. Age 49 Years
Born 1827 Telemark, Norway
Died 1876 Carson Valley, Nevada

The next purpling range ripples on heat waves.
He loved to hear the colors move.

At my feet,
between sagebrush and sand,
a garter snake wriggles around boulders,
brings his own
gold stripe and small bones.

Near the road,
a scrawny mule deer
startles away from the green
of a new golf course.

We look back; in the white noonday sun,
Thompson's headstone glistens alabaster,
crossed long distance skis—
etched deep.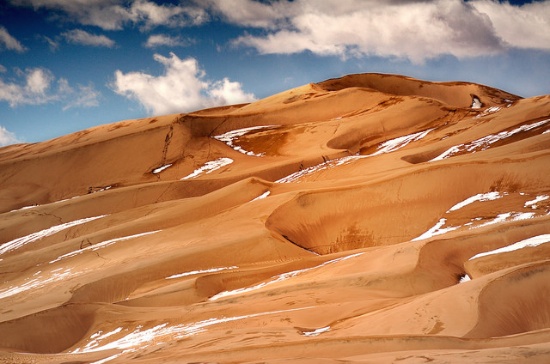 SAND DUNES NATIONAL PARK by Brenda Yamen
FAITH
by Carol Hamilton

"The certainty without being sure."
—Charles Bernstein, "High Tide at Race Point"

What did the Desert Fathers discover?
      Landscapes with Jimson Weed
                nopales, cholla?
           sage? tamarisk?
I think, instead, stark Saharan sands
      bare mounds like those captured
           in a bottleneck corner
where the Sangre de Cristo range
      slips out of Colorado
                into New Mexico
           those sands that burned
      our feet when the sun came out.

We splashed happily through the sparse river
      to cool our car-weary selves
                scurried past
      those crowded around the billboards
with instructions for safe passage
                scampered
           toes slipping down into bits
                of glassy particularity.
Then the clouds parted
           pain scorched us
      and we knew we had made some mistake.

Now I count each grain of sand as error
      on a rosary I finger constantly
               trust the touch
           whether cool or searing
as the only true thing
      I have ever doubted.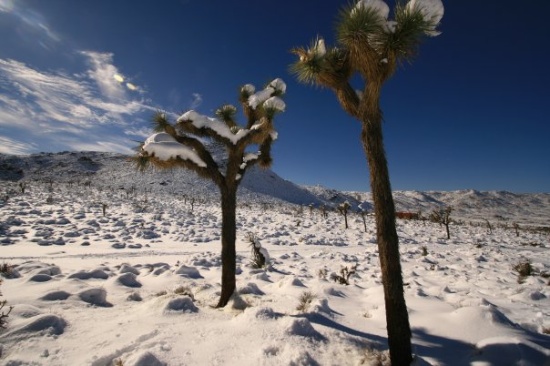 DESERT SNOW by Lynn Crounse
THE CACTUS IN THE GREENHOUSE
by J.R. Solonche

The cactus in the greenhouse
has three arms.

At the end of one arm,
there is a broad, flat, open

palm of a hand,
with slender spikes for fingers.

It holds up against the pane,
triumphantly,

a single pink flower
so translucent

it looks to be made itself
of pink glass.

"See," says the cactus,
"what I have had to do

to get to the sun.
I have had to make love to glass."