I LOVE YOU BUT I'VE CHOSEN DARKNESS

By Frank Andrick

                                        H. Hesse. "When will you realize, dear boy,
                                        that there is ever so much more space inside
                                        of you than you will ever find outside of you."

If from dark matter comes light
Like the television sez … then
I understand how the light
No matter how dazzling
And no matter how enchanting,
The light is just another veil.

A moment, be there now,
A frame from War and Peace
Shattered, fragmented,
I am broken and cannot be fixed
The past as a river, dans la reve
Pieces are places and faces breaking the surface,
Stones morphing to memories retained
In the perpetual moment ever changing
change shift's the memmoria
Casting shadows forward
dissolve, coagulate, and then
Scatter like living Braques in motion
I Love You But I've Chosen Darkness

Turning back from the formative past
Shattering the second I call now
Looking ahead into the stream of creation,
The advance of the unformed posing as light
I am ready for the next attack
Born and reborn in the act of becoming
The Mysterians are among us - Follow the Black Rose
Streaming brilliance mother of existence
I find socour in darkness, noirness of all
Of space/no space - Moreau painted
Helen without a face - sans visage

Staring futurity in the eye
I look beyond the beyond before it takes shape
Dark matter, Notre Dame du Souterrain
Now I know …the light is just another veil
iiiiiii … UUUUUUUU … iiiiiiii … repeat!!
I Love You But I've Chosen Darkness



THE OPIUM OF OBLIVION

By Frank Andrick

If I die tomorrow, at least I have had
the chance once more
Amongst my immortal friends
To give my thanks, prayers, and pleas
Tho undeserving of their
Limitless, unending inspiring passions
I have felt the pleasures and pains
Of those passions
I have looked them in the eye
I have wept in their gaze
I tell the sun and the sky
La ciel et le soleil
The future is forever … i'm waiting for my space
So please prepare a place.

The future is / a question mark
I have never asked for more
My true wish to change the world
Mind by mind as you have changed mine
Prayer on fire larger than life
Consummate consumer ignoring praise and prize alike
Oooh for this absence and abyss that bears my name
I demand everything, the eurasure of all to mortal eyes
See me as I could have been
poem as potentiality
Born to die, I die daily to live.

Aaah death
Most beautiful woman I have ever known
Whose eyes peer out
From the eyes of every woman I have known
In every sentence I have ever written or read
where constant creation and the end are one.
Where paper and pen are zero to zed
Between the lines
Your smile
And the promise of return
The heart starts as a drop of blood
The crimson dot of desire
One part immortal one part longing
For your thoughts, your gaze
The intimate conversation of the angel
And your kiss
The opium of oblivion lies on your lips.



WHAT COULD BE MORE ABSTRACT THAN GOD...
IN ALL HER GLORY?

By Frank Andrick

You who inhabits – the unknown lands
Interzone between yin and yang
Jochim and Boaz
the deliverance of Beauceant'*
the Magdelene is my Mary and also my Marie.

Between those temples – endless eyes
that seek forever in everything
between those temples
endless eyes
between the pillars of passion and compassion
compassion and passion
that govern your every move
like a tide to a moon
the play between passion and compassion.

This storm of light
like the story in the painting
that unknowingly caught you
in a soft ballet of texture and colour.
When i think of you, i think of blue
azure and cobalt, the sky, the sea,
and blue fish

When i think of you, i think of black
the birthing ground, the colour field.
from which i came
the mystery i attempt to explore
and the death i know i will knowingly
walk into
when i think of You.

                    *Beauceant — the battle standard Orriflame of The Knights Templar,
                    black and white, symbolizing the interplay and union of opposites,
                    much like the Buddhist yin yang symbol or the pillars of the caballa.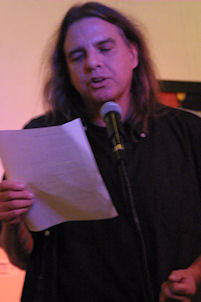 Photograph by Van Wormer Photos

Frank Andrick



Frank Andrick is a poet, editor, and producer who works in Sacramento and in the San Francisco Bay Area. Author of Soluna, a prose and poetry collection, and Tryptich, which also includes photography, Frank is currently working on Mandorla. He is currently editing La Musee de Muse (The Museum of Muses), a collection focused on the works of inspirational women. He has edited WTF ( Rattlesnake Press) since 2007 and co-hosts Poetry Unplugged @ Luna's Café, the Sacramento News & Review people's choice for Best Open Mic venue. Frank's radio and journalism career stretches back to the mid-70s. He currently hosts and produces the long-running Pomo Literati, a two hour spoken word program broadcast on KUSF.