LET MY SOUL DANCE
PLEASE JUST ONE MORE SONG

by Shawn Aveningo

The amber vial sits patiently,
waiting for me, teasing me
from the sink's edge. Three
turquoise capsules, pretty little
povules, provoke me at dawn
as the Colgate froth from my mouth
makes me appear crazy, insane, mad,
unbalanced, out of sync, confused.
I'm convinced my toothbrush has
joined this conspiracy, along with
the mirror, fogged just enough
to erase my brow quicker than
tweezers and blur the image
of my breasts, one of the few
reflections worth remaining,
not yet scarred by the sharp
scalpel cutting out my youth.

"Youíre not thinking clearly."
"Youíre not processing properly."
"These problems you create are all in your head."
"Choose. Just Choose to be happy."
"Swallow."

It's been 88 days. Not that I've
been counting. Last time I tried this,
I only managed to make it
60 days. That was almost four years ago.
Spring is in the air and the sun
has been warm on my face,
casting shadows difficult to escape.
Iím not sure if this is the right
path to take.

Sleepless nights are more common, but
when I sleep, and dream, I swear itís in color
again. I know, I know. The experts claim
it an impossibility. But I swear it's true.
My muse visits more often now. I missed her.
I didn't realize how much until now. I cry easily
at movies, poetry readings, and birthday parties.
But they're honest tears, unrestricted, unabashed,
and seem to be less salty. I laugh, often during
inappropriate moments, letting my own warped
sense of humor take charge. Do you know that feeling
just before laughter turns to tears? I hope you do.
God, how I hope you really do. I fear
too many in our world donít allow themselves
to go there. You have to let yourself loose, lose
control. I like to think it's how we let our soul
dance.

They're still sitting there. The steam has disappeared
and I can see them clearly now, still taunting me.
Today, their pull is strong, magnetic and I'm feeling
like an old rusty nail without a hammer. The past few
days have been darker and more sporadic than I can
recall. I know the voyage to the bottom is a short one
and my baggage has arrived well before me. It's circling
on that carousel. No one will claim it or turn it in,
fearful it may explode. I fear it may implode. I've
witnessed the signs. But I keep resisting the urge
to take off my shoes, remove my belt, and pack
everything neatly into 3 oz bottles and a Ziploc
bag. I just want to go home.




THE BUSINESS PROPOSAL

by Shawn Aveningo

She stood silently
laden in white,
six women surrounding her,
each with a colored sash
cinching their waists.
She gazed into the mirror
and wonderedÖ
Had anyone told him
the color of her eyes?

One woman brushed
her ebony locks
and pinned in place
the perfect chignon,
as the other prepared
the veil of white tulle
and its iridescent pearl crown.

This woman took on the tedious task
fastening tiny buttons
trailing up her spine,
as that one on her knees
polished the tips of a satin slipper,
placed a penny in the toe.

One woman handed her
a bouquet of lilies,
tucked neatly in a blue kerchief,
while the last one, her mother,
wiped away a lonely tear,
draped the gold locket around her neck
and kissed her on the cheek.

And as the women proceeded
to take their places before the congregation,
Mendelssohn's Wedding March was silenced
by the sound of the gavel
echoing in her mind
and the repeat of one single word —
Sold.




PATCHWORK HEART

by Shawn Aveningo

I wish I had a suitcase
packed with a million little hearts,
each one shiny and new
like the golden locket
I wore around my neck
when I was a little girl.

That was before.
Before all the heartbreak,
the heartache,
the heart wrenching
task of pasting the parts
of my heart
back together again.

I wish I could reach inside that bag
and hand you one of those hearts,
perfectly polished,
unscarred, untarnished,
full of promise and truth.

But all I have for you
is this used up old heart,
ripped at the seams,
stuffed with my love and
stitched back together
like Raggedy Ann.

So here I am.
Your ragdoll rescued
from the bottom of the toy chest.
Your baby doll,
yours and yours alone,
to love.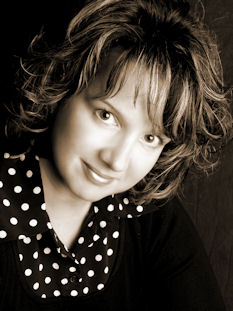 Shawn Aveningo



Shawn Aveningo was recently voted one of THE BEST POETS in the 2009 Sacramento News & Review Reader Poll. Her Poetry has appeared in Rattlesnake Review, WTF, PoetryNow, Survivorís Review, The Ophidian, JukeBox, POETZ, and Medusaís Kitchen. She has three published collections of poetry: She Has Something to Say, Stripped and Because Red Is Your Favorite Color. Her latest project, And Life Goes OnÖ is a compilation of poetry chronicling the journey of a donor, inspired by her own experience donating a kidney to her father. You can contact Shawn via her new enterprise The Poetry Box.