YOUR NEW OCEAN
Carol Louise Moon

I giggled when I saw your ocean,
all flat and silly.
Ship-out-on-the-water looks like
a cigarette lighter on a table top glass.

This sand beneath my feet
is warm and weird,
fine and light golden, almost white.

My arms grasp nothing;
not a rock to lean on,
not a tree to walk over to, to pick pine needles
from among the mud and pebbles.

May Mack, Mack, Mack with buttons
down her curvy back, back, back.
Button-sized seashells line up along the sand
where the shallow wave has come and gone.

We were raised in California,
but you moved to Florida.
From Pacific to Atlantic you have come and gone.
Your new ocean is silly.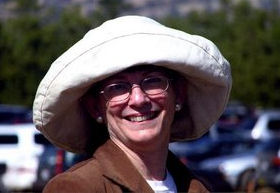 Carol Louise Moon has been published in Brevities, Rattlesnake Review, Poetry Now, Updrafts and Poets Forum Magazine. She restarted the El Camino Chapter of the California Federation of Chaparral Poets and has authored two chapbooks – Fuzzy Spiral Twist and Some Roman Alpha Letters Make Good Friends – and a broadside, Mindfully Moon, available from Rattlesnake Press.