THE END STARTS BEFORE YOU KNOW IT

By Linda Collins

One moment you are following footprints
that trace a path of safety
across a stale landscape
ground-focused as you place each foot
in an exact perimeter of hollowed sand.

But one foot lands outside the margin.
Your toes slide sideways
the edge of your boot brushes a slick stone
only it isn't a stone, and before you know it
a huge flash paints the air orange
glazes it with gray soot.

The last thing you see
your two best buddies —
a stretcher bouncing between them —
hopping footprint to footprint
across red-splotched sand.

You wake up in a German hospital
and here's your wife
her smile, faked.
The end of the bed
where your legs should be
desert flat.

She sits there
and speaks of logistics.
Rehab at Walter Reed
a fitting for prosthetics
counseling for you, for her
a car with hand controls.

It's all mapped out
and now you understand
that in that split second when your eyes
left the ground after some distant crack
echoed against the flat, colorless sky
every decision was made.



MOONLIT MAN

By Linda Collins

Tonight the moon hides tomorrow.
My son said I am coming soon —
when we are together I will know what you know.
See now, aspens dulled by pallid rays
all the leaves are voices
the moon hushes their whispering
sweeps silence through ghosted limbs
cloaks the mysteries awaiting your birth.
See how I am changed yet unchanged
branches tinged with silvered strands
until the milky light wanes
and the moon slides behind the earth's swollen curve.



FAULT LINES

By Linda Collins

Here in the midst of high-rises in the square
statues point from graffitied pedestals
while inscriptions shout voiceless
from cold bronze, and ahead
where the street stretches out
to shining skyscrapers
over flashing neon signs
lit up inside gloomy bars,
and the relentless buzz
surrounds everything not moving
around the tremor of moving —
they say it might be the beginning
of survival or something like that.
Maybe all the statues point toward
what will follow, over the years
after the opening of fissures.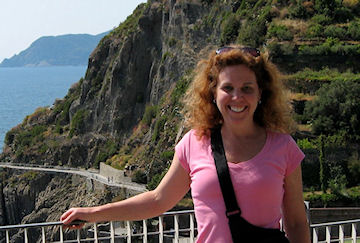 Linda Collins



Linda Collins lives in Carmichael, California, where she strives to make up for too many years of not writing. Her poems have appeared in Late Peaches: Poems by Sacramento Poets, Walrus, American River Review, Poetry Now, Susurrus and elsewhere. She is affiliated with the Sacramento Poetry Center and co-edits its periodic poetry journal, Tule Review.