THE WRONG SIDE OF DIRT
by William S. Gainer

Visited an old friend,
Bob,
was glad to see that someone,
probably his sister,
the one from up in Reno,
had finally placed
a headstone.

After wiping the snow
and reading the inscription:

James Robbins Gardiner (Bob)
an extraordinary artist
a creative thinker
March 19, 1951 – April 21, 2005

I thought, "This is it – ha?"
The guy was once somebody,
had won one of the big ones,
an Academy Award,
way back when,
for a stop-motion-animated
short film thing
he did in college.

I heard it was down hill
from there.
That his world
was an alien place –
it didn't love him
as much as we did.

His sister said
he took the dark way out:
a piece of cord,
a rented room,
the city cops
pushing the door in,
him hanging there –
done...

She said
because of the way
he left
the priest wouldn't
bury him,
so they did
some kind of Indian thing,
burnt some sage,
banged on some drums
and chanted something
that meant something
to somebody,
who knows...

After all the crap,
the craziness,
the booze,
the dope,
the good times,
the bad,
the women,
the fighting,
the falling in love,
I always loved
the falling in love,
even the meds,
yeah they put you on the meds
when they think you've gone
a little goofy.

After all of it,
here I am,
an old man
left standing in the snow,
talking to an old friend,
who's long gone,
wondering
which one of us,
is truly,
on the wrong side
of the dirt...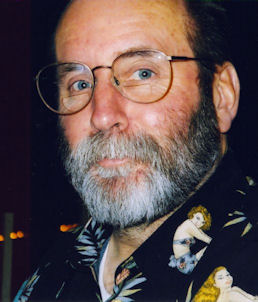 William S. (Bill) Gainer is known for the openness of his confessional poetry and is recognized as one of the founding contributors to the modern movement of "After Hours Poetry." Gainer has contributed to the literary scene as a writer, editor, promoter, publicist and poet. He is a co-founder and current board member of the Nevada County Poetry Series. Gainer has read and worked with a wide range of poets and writers, including readings on KUSF with Punk-Rocker Patti Smith and a recent performance with California's Poet Laureate, Al Young. He is widely published and continues to be a sought after reader. Gainer can be previewed at billgainer.com.