Without
by James Lee Jobe

Winter. Sunrise. Tule fog drapes the Sacramento Valley.
Slowly, slowly, life begins for the day. A garbage truck
creeps down the damp street, easing through the fog.
A neighbor goes out in his bathrobe for the newspaper.
Crows talk to each other from the barren branches of trees.
A glimmer of quiet light illuminates a corner of foggy sky,
showing this world where the sun will finally burn through.
The people jogging or walking in the park do not speak.
Far away, there is a hard war with no end in sight,
and the sons and daughters of this valley die there.
What is life without poetry? It is nothing. It is nothing.



The Balance
by James Lee Jobe

Darkness and dread, sure, it happens
in a life, but also light and hope,
roses among thorns, and whatever it is
that gives you the courage to be alive.

There is a balance just beyond sight,
you could say life or death, perhaps
good or evil, but I suspect something
more simple, this world, this life.

So then let it come! Despair! Laughter!
Blankets of doom! Prairies of joy! Even apathy!
Each beam of light knows the way to heaven,
the way back to the endless radiant light.



Inside a Day
by James Lee Jobe

Dawn.
Awake.
A sky burst streak of red. The truth
that lives inside a day. Cold shower water
that bites. The radio tells the news.
Coffee. Cereal with raisins. A hummingbird
hovering at a bus stop. Bus stop talk.
Touched by cool, sweet air. To breathe
is a rebirth, each breath is a new life.
Bus ride bumps. Some kind of independence.
World in transit, in motion. How pigeons feel.
A city park with a bullfrog. Aware of Godís grace,
Her love. A spirit in a human body, living a human life.
Morning sunlight slipping though the falling water
of a beautiful fountain. The value of one human being.
Books with poems and stories. Coffee shop talk.
Thoughts become earthquakes become ideas.
A feeling of pointlessness. Sorrow. Grief,
sometimes very old grief. People walking
as if bearing some vast unseen weight.
Workplace talk. Meaningless labor.
Moments of being lost. A kind of social inability.
No silence anywhere.
Quick little daytime dreams. Acceptance
that leads to a sort of joy. Going home.
A family. Dinner talk, jokes, and stories. Warmth.
Feeding the cat. The stripes of long summer sunset.
The creakings of night. The feel of clean sheets
and familiar pillows. Quiet at last.
A wifeís loving embrace. Coolness.
That another day has come, existed, and is gone again.
The loving sweetness of the blanket of night.
The ghosts of all who went before.
Hope.
Sleep.
Hope again.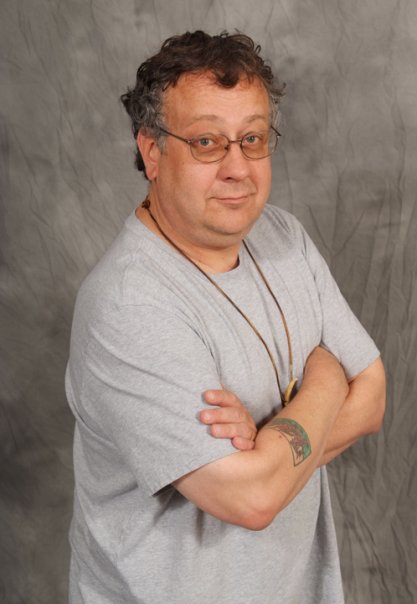 James Lee Jobe has been published in Manzanita, Tule Review, Pearl, and many other periodicals. His poems are also included in The Sacramento Anthology: One Hundred Poems, Jewel of the Valley: A California Anthology, and How to Be This Man: The Walter Pavlich Memorial Anthology. From 1994 - 1999 Jobe was the editor and publisher of One Dog Press, a poetry monthly. He also edited the quarterly Clan of the Dog. Jobe has authored four chapbooks, most recently What God Said When She Finally Answered Me, from Rattlesnake Press. He lives in Davis, California, with his wife and children. Read his blog at jamesleejobe.livejournal.com.