SHOES FOR DANCING

By Ann Menebroker

Here's the scene: a protruding slender branch
of a tree and a rather large baby bird, wearing blue

plastic shoes has its mouth waiting and open.
Next to the baby, is a rather diminutive parent

with a sausage in her beak, wearing brown leather
shoes. The youth's hunger is large enough

to eat the sausage and the parent. Such a wide
and open mouth. Such tiny shoes. The baby sitting

with its tiny legs on top of a now too small nest.
There is, however, no sense of evil, unless the need

to eat makes us monsters. The prepared food is
nonsense, as are the shoes on the tiny feet of each

bird. And the mother and child look nothing alike.
But the basic needs are shown without a care

or appreciation for our understanding. A mystery to be
solved, a laugh to be served up, breaking into dance.



BUTCHERBIRD GOES FREE

for Billy Jones

By Ann Menebroker

There was the flute-like sound
coming from a wire, this
black and white bird
in full orchestration —
the stadium-sky full
of its sound, a citizen of Australia
with a curtain call of clouds
and blue, stars and space beyond
with forever in its memory.
The pull of gravity is in a minor key
bringing the pitch down
but only briefly, before
the forever is bound tight
as silk ribbon to now, and slips
its knot from whatever once
held it.



DEATH AS THE BULLY

By Ann Menebroker

George thought when he woke up
from death, with the peculiar funeral he had —
the odd sort of pope-hat on his quiet head, that
there would be the scenes he remembered
with an urgent joy — like a documentary
of his worth, everyone smiling, no lousy
noise, or mean people and that this eternal
memory would take him in its arms
singing the lullaby he never heard, classical
music dancing toward his ears.
But I think he built himself up to fail.
And the only blessing left for him
was this eternal solitude, this total lack of him
anywhere.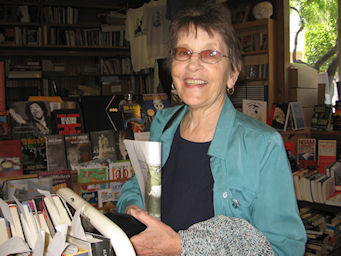 Ann Menebroker, Photograph by Sandy Thomas



Ann Menebroker has been publishing her work since the late 1950s. She was born in Washington D.C. and came to California during the middle of WWII. She has over 20 books and chapbooks to her credit, has had broadsides of her work printed, has been in many anthologies, has edited two of her own lit publications, and in 2010 was included in a college literary anthology titled Literature and Its Writers. Her last chapbook, The Measure of Small Gratitudes, came out in 2011. To this day she wonders why she has been categorized as a "meat" poet.