THE CUBISTIC WOMAN
          FEMME AUX RAISINS— Jean Metzinger
          Painted in 1917, 32" x 39-1/2"

by Joyce Odam

She turns this way and that to feel herself turning,
to watch the expressions of light upon her.

The room keeps her secrets.
The chair is an incident of reason.

She confesses only to the bird-headed jug
on the table beside her—how attentively

it listens—how the empty glass inquires.
She moves slightly and the room

changes its whole perspective.
Her thoughts are made of moods.

The bird and the glass conspire
to intoxicate her. She is a warm glow

in a room of designing shadows.
She loves the separations of her mind—

how golden she becomes with each shift
of her body—how motion and stillness

work in harmony to perfect her. For what
impressive mirror does she prove her beauty?



BLACK GOWN STUDY
         Homes for the Disembodied—Mary Tuma

by Joyce Odam

Black dresses
hang
in high-
fashion
mourning—
ceiling to floor—
trailing into
each other like a path
of grief
made of weeping.
Though bodiless,
a sympathy can be felt
for them, hanging so starkly
black
and sheer
as if a message
of confession:
gowns of surrender;
gowns of release
from all their vanities
and fatal loves.
No breeze
disturbs them
in this bright gallery.
They hang as a study of
silence—wearing dust and light
like penance (though one dress turns
at this—upon its hanger—and a shudder is
felt—for what can this mean unless a way to disagree).



OLD DIVA
         After Orange Soprano —Otto Mjaanes

by Joyce Odam

Her voice is gone. Her slow eyes search the room
for some old admirer, one who still calls her Diva,
tips his glass and mouths endearments.

This she believes and counts on. Music fills the
background—subdued and polite—the musicians
careful not to play something she was famous for

—to let her presence still amaze—but demand
nothing beyond the legend of her fame. Even so,
she floats through the indifferent room with a

particular air of disdain, faltering slightly before the
hallway mirror that observes her with a commiserate,
—but still flattering—returning look of sympathy.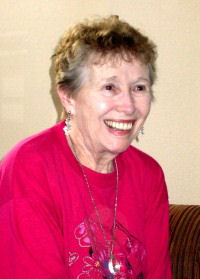 Canadian born, Joyce Odam has lived in the U.S. since the age of three and in Sacramento since 1952. Her poetry credits include: The Christian Science Monitor, Ekphrasis, The Seattle Review, The Rattle and local anthologies Landing Signals, The Sacramento Anthology: One Hundred Poems, and Watching From The Sky, which was edited by Ann Menebroker and Martha Ann Blackman. Ms. Odam's awards include: Grand prize Artists Embassy International's Dancing Poetry Contest in 1999 and two- times winner of CFCP Golden Pegasus Award. She now edits BREVITIES: A Mini-Mag Of Minimalist Poems. Her most recent chapbooks from Rattlesnake Press are NOIR LOVE and PERIPHERALS (Prose Poems). Joyce Odam has a passion (amounting to a credo) for the relevance of art in one's life.