Physics Erotica
by Chris Olander

In our bed's physics:
     the garden's dark red roses
         perfume crescent moon———

In the valley oaks
     Leo stars flickering flames:
         physical music ———

A breeze quickens leaves:
     the galaxy swirls its milk
         into universe ———





The Rose
by Chris Olander

What joy———
         its petals opening
     intoxicating bees buzzing
               in perfume ———

What heart ache ———
         its petals falling.



"The Rose" was first published in WTF.



Sinkyone
by Chris Olander

Her lips
     want me ———
a pure light
     abstract
         splashes her Iris'
fire!

She teases
     her rain veils ———
         silver-crystals
golden
     splashing our Iris'
         field———

            * * *

Her petals
     pulse———
         mountain spine's
full moon
     splashes her coast line
         teeth!

The white rose
     unfolding honor———
         we embrace stone:
her petals' jewel
     splashing our sand's
Kiss———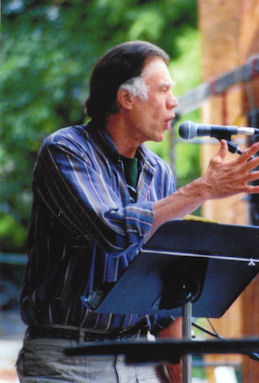 Chris Olander, poet, bio-educator with California Poets in the Schools (CPITS) since 1984, blends performance techniques with spoken word to create an Action Art Poetry: musical image phrasing to dramatize relative experiences; a poetry arising from oral and bardic traditions. "I am a sound poet exploring various meanings of words, phrasings and ideas arranged in sound and rhythm patterns."