FIRST KISS
by Shawn Pittard

On those days when I feel myself dying,
I remember

the slender girl from Sunday School
I kissed in the back seat of her cousin's car.

A hothouse in the summer night,
I still taste the sweat on her upper lip

and right nipple, still listen
for the sound of her parents' front door.



WHY I DON'T WRITE CONFESSIONAL POETRY
by Shawn Pittard

"So many laws argue so many sins." Milton, Paradise Lost.



When I was nineteen, I confessed my sexual indiscretions to an eighty-year-old High Priest—a Latter-Day Apostle—who wrote them all down on a long, yellow pad. He meticulously transcribed each incident, by category, while asking clarifying questions. Was that you on her? Or her on you? His Mont Blanc scribbled furiously.

Below a painting of the blue-eyed Jesus, praying desperately for His own deliverance in Gethsemane, I could taste the contents of that bitter cup.

The old man pushed a box of Kleenex across the cluttered desktop. Sometimes, he said, people show sorrow for their sins. The second hand ticked on the wall clock. Basketballs bounced on the hardwood floor down the hallway—Church League. He nodded toward the white tissue with a thin smile of encouragement. It's a matter of excommunication.

Lot's wife was told do not look back or she would be turned into a pillar of salt. Some days, I can feel the heat of that burning city in the middle of my back—as I walk, and walk, and walk away.



(These poems orginally appeared in The Larkfield Review )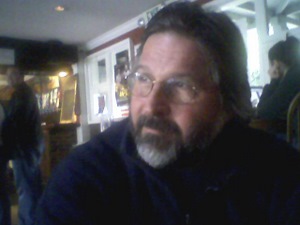 Shawn Pittard is the author of These Rivers, a chapbook of poems from Rattlesnake Press. His poems, essays, stories, and book reviews have appeared in Confrontation, Cimarron Review, Lullwater Review, Spillway, the Web del Sol Review of Books, and elsewhere. Shawn is a founding contributor to The Great American Pinup, an on-line literary blog. He also blogs about his backcountry amblings at These Rivers, and writes a quarterly column for the Rattlesnake Review. Recently, he co-wrote a screenplay, Junk Sick, with his brother, Trent.