A Memory Recovered While Deviling Eggs in the Delta

by Viola Weinberg

I was praying over deviled eggs in the heat of the day
Shaving horseradish and mashing mustard and mayonnaise
Placing little leaves of cilantro in jaunty patterns
And the whole mess— whites, yokes and all—in a Passover dish
It was hotter than the Galilee, sweat running, hair sticking
And I'm at the counter, under the spell of Lucinda Williams

Singing "C'mon now child, let's go for a ride
And baby, for the first time in 30 years, I feel something good under me
Like I'm behind the wheel of that sea foam green '55 Chevy Bel Air
With the big horses and the loud pipes and the accelerator like a rough tongue
On the open road ahead, late at night on the delta, my husband gone
With his sax, somewhere where women dance in red dresses so

It's just me, with the two little girls in the backseat
Asleep in seersucker pajamas with the windows down
Cheeks aflame with the summer heat, the breeze up
Our way lit by an admiring moon as we drive on into the night
Cutting through the delta like a ship under swirling stars
Or haystacks or fantastic whirling rotaries of old dreams

Going down like that, a cigarette burning in my ignorant lips
Going down into the night, to meet my blue Venus
On the far horizon, rumbling toward Mercury and his message
Too hot to turn on the radio, I let out an old Okie love song
Faster than Sylvia Plath, back to those young cells of brunette rebellion
Driving hard into the cradle of civilization, swinging in a wide Chevy

Tearing through the orchards down and up to the levee
Unaware and uncaring if I would live to be 30
Unknowing that I would go through men like cheap shoes
Or that I was about to burn my bra or become a poet
Just the blacktop river and beads of sweat on my neck and the coal
Burning low and furious on my next-to-last cigarette

It was long before I knew about the future accountant
And the prospective human resources consultant
That would rise out of those two little girls in the back seat
I was 23 years old and they were all I had—and it felt good
To be flip as a cricket on the road, happily uninformed
About the books that were in me, or the long way back

I just kept driving, listening to the girls breathe quietly
In the summer heat and river breeze, happy as they could ever be
With their thumbs in their mouths and their stuffed bears
Their little feet tangled together, their lips crimson and full
With the smell of jasmine and pear blossoms to anoint us
The wing windows straight out to catch every last inch of air

My pony-tailed hair flying with clouds of smoke
No idea of what would become of us or how hard it would be
No idea of the joy that waited for us, our many lives
Fanned out in the hours of darkness that enfolded the future
No AC, just a bottle of frozen water on the seat
To roll on our brows and necks, summer in the West

Praying, like I pray over these egg yokes now—
Thinking, "please god, please don't ever let this road end."



For Just One Hour

by Viola Weinberg

Turn off the machines
Silence your quibble
Lock the door and
Draw all drapes—
But open
The windows over
The snowy bedcovers

            And forget

Let the air in as if
It is clean and fresh
Listen to the chimes
And not the traffic
Linger in the curious
Half-light of a cloudy
Friday afternoon, around five
Gently run your finger
Of the facets of this chamber

            And breathe

Stop, take oxygen, and stretch
Peel your clothes like skin
From a heady clove
Leave your body print—
A shining silver rubbing
On your lover's
Torso, impaneled
With fear forgotten—

            And sigh

Forget the mayhem of modernity
The lost towers of the dead
Don't worry for a moment
About the fires and the bombers
Don't think twice about ice on the road
And jack-knifed trucks up on the hill

            And laugh softly

Put on the Piazzola
And dance again, tangled
In the linens, shadow and flesh
Of smooth, platinum hope

Candles and light in dappled
Amber-crusted happiness
Happiness with charming flaws
Arrive in blissful quiet, hand in hand
And ten years younger

            And murmur

Take this precious hour
This thing you have
This legend, this lore
Wrap your arms
Around each other
Make love and peace
Defeat the tongues
Of war

            And live

Outside, petals
Flutter
Early blossom
Tributes leave a
Purple stain
The dead of dark comes in, but
The spangled stars remain



It Doesn't Matter What People Think

by Viola Weinberg

Years after they beat you with that airless book
of essential etiquette, chapter by weary chapter
Decades past party gloves and patent leather shoes
and the dicta of the succession of forks and
how to dislodge a small sea urchin from its spiny well
There you were in Provence sucking down mountains
of mussels, throttling escargot with a butter knife
using a jam spoon to sup cold quince soup

Just down the road from St. Remy, where Van Gogh's
soul is forever trapped in a patch of Iris and a wheel of hay
nothing matters to you, buttered and breaded with
the crumbs of one plump oyster after another
chin dripping, the white cloth changed twice, Champagne bottles
rolling on the table, one dead soldier after another
There are times when it doesn't matter what people think of you
when your true love sloppy kisses you and wipes his hands

On your soiled sweater, straining through the yarns of happiness
when you are a little too loud in your revels as if sprung
that very morning from the Bastille of your conformatory
Each of you with your legs wrapped like peppermint sticks
at a feast of the will, in the end, when you are dead and gone
it hardly matters that for one evening, you tasted the starry night
under the plane trees with the racket of cigale, buried deep
in Cezanne territory, drunken libido and messy accordion song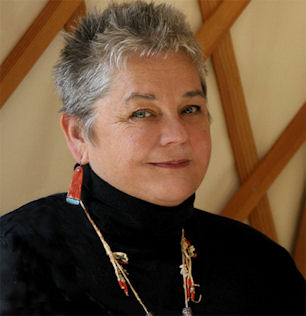 Viola Weinberg. Photo by Ronna Leon



Viola Weinberg (with Dennis Schmitz) was the first of Sacramento's Poets Laureate (2000-2002) and received The Sacramento Mayor's Award for the Arts in 1996. Last year, she named the Glenna Luschei Distinguished Poet. Viola has published five books of poetry, the last being Enso. Her work has appeared in the English Journal, Baseball Comes Home, Poetry Motel, Diablo and many other publications. She is currently at work on a collection of plein air poems.