DEATH MASK

By Stan Zumbiel

Empty eyes follow everywhere,
observing the action in the room—
the chess match now in its second hour,
his wife dancing away
grief to "Devil with the Blue Dress On,"
hoisting her skirt just a little above her knee,
two friends with a bottle of brandy between
them laughing quietly at a macabre joke,
his grandmother's crocheted doily on the
end table, a rough ceramic bowl holding
a bit of weed and a package of Zig Zag
papers. Maybe someone would hang a joint
between his white porcelain lips, denying
darkness.





HIS INTRICATE DRAWING

By Stan Zumbiel

Each penciled line of her body
leaps from the paper as if
in the morning
it could walk
from the shower
leaving six dewy
footprints on the carpet.



THREAT OF DAWN


By Stan Zumbiel

The afternoon
sun puts the name of the café on the

dark wooden table where sometimes there's not
even a chess board in the background,
where a woman bends toward
me with her finger raised
making a point that's not about

feminism, where is a table for bridge
but no one there. Outside a man
shuffles by addressing
God in clear words.
I order another round because
youth protects me from loud
music and any disturbing image that
might walk by, any specter
asking for spare change on the same

corner where I will kiss
goodnight a wonderful girl,
her wine breath clearing the night
air, showing stars and their patterns

charted by an astrologer in a basement
office where stars never go.





LIGHT GLEAMING AN INSTANT

By Stan Zumbiel

White clapboards
painted yearly, eaten by salt
winds, frame windows that reflect
passing boats in the sun's low
light. We spent the day walking
the loud beach, scooping empty
shells and stones hollowed by sea
water and cast onto the sand.

Dark, aided by the shadow
of the bridge, spreads premature
night on the river shore just
as it widens to embrace the sea.

An image in place of an
Image, the stark blue of
sky conceals stars with light.

Behind the neon "Open"
and
"Budweiser on Tap" my
wife and I sit at a table with a plastic
cloth. Fluorescent bulbs,
gaseous light. We drink wine from small
water glasses and stare past the window.

Boats with dim lights enter the harbor.

The waitress doesn't see the
oncoming night and delivers without
comment our lightly breaded snapper.

A bottle of vinegar
appears from her apron – practiced
sleight of hand born of boredom.

The seabirds are quiet
and sleeping where they
sleep. Even now a gull is
dying in the dunes among
bunched grasses; he is hiding and
looking at the sky when his heart
stops.

When the flesh of that Pacific
snapper who had been
pulled from the sea that day
meets my teeth and tongue, I feel
myself swim in cold water.
For a moment
we swim side by side
under the darkening ocean.

More wine, and the cook looks
out his pass-through while
big pots steam behind him.

I've returned to that coastal
town many times. I've searched
in daylight and at night,
but that diner is gone.

I stand where it might have been,
staring out over the beach to the sea.
Stars line up creating
patterns that forge
meaning with the sweet
smell of darkness.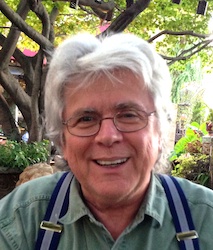 Stan Zumbiel




Stan Zumbiel taught English in middle and high school for thirty-five years and has had a hand in raising four children, yet doesn't have the slightest idea how he got to be old. He wrote his first poem in 1967 while serving in the Navy. In 2008 he received his MFA in Writing from Vermont College of Fine Arts. He has been widely published and continues to write in his Fair Oaks home that he shares with Lynn, his wife of twenty-nine years.