SO WHAT ABOUT LOVE
by Joyce Odam

This dying emotion
that has so much trouble

responding—
your hands at its throat

your lips on its lips,
its terrible kiss—

life-saving it.
What does it matter,

the words that are said,
as if caring?

All it needs now
is the promise

you withhold.
And you tell it lies

in the guise of sincerity.
Yes, what about love . . . ?



LIFECYCLE OF A WASP'S NEST
by Martin Elwell

The branch growing through me
rooted once
in June's sandy soil. Each gray strip

of my fabric exterior
was chewed into pulp, smoothed
and pasted by female workers in humid August.

Others guarded my exterior,
protecting the larvae
of my loves, my pre-sleep fantasies,

my erections. Each harvested offspring
later freeing himself
through the same valve by which he entered.

But in November, my warm weather purpose
served and ended, I waited
to be knocked to the ground
                                          with a broomstick.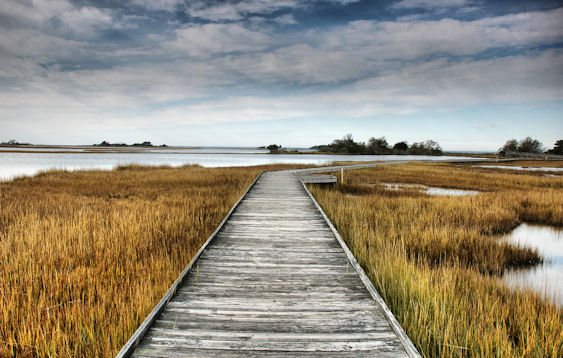 MARSH by Brenda Yamen
ARCADIAN PASSAGE
by Frank C. Praeger

I know this elegant ankle,
the hoof that is attached to it,
across the road from the ribcage.
All summer, fall I watched diminish
body to bone and hide
partially hidden among flowers,
watched

as everything that would
would go,
past the changing leaves, through the long snows of winter.
Now, warmth
on the denuded earth,
the bones scattered.
Now, this svelte reminder
of an Arcadian passage, Riviera of fragility.

Sheer number numbs me:
ants,       beetles,       springtails,       flies,
other furtive hustlings,
clandestine quickenings,
the smallest denizen's

extravagant,

unappeasable appetite.