ADAPTIVE ADVANTAGE
by Andrew Aulino

I'm hanging open at the hinge.

At the pressure of his hips I

was a mandible. I locked
around that sharp-boned boy.
He tried to stretch one narrow leg—
my jaw-body stopped it when it touched me.

Now he is the gristle and tendon
an appetite left behind it.

The heat in August
turns the darkness tough, into thick foliage,
the house into a grove of doors.

He spent his day heavy and slack and seated
by night something
no denser than aroma
started him tangling
with the dark, towards me.
He thought, it seemed, that

I was also a door,
would do more than shut
behind him softly.
He'd forgotten the night before.

So he struggled in my limbs
then stopped abruptly.
Now the ache on my abdomen
lingers there longer
than the hips that bruised them ever did.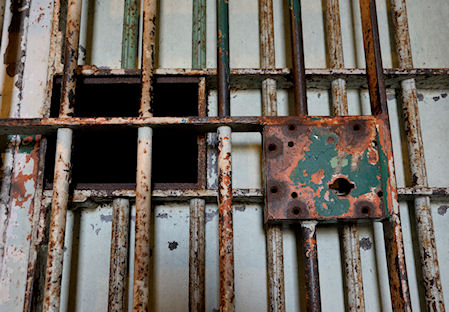 LOCK by Myles Boisen
WITH INFIDELITY
by A.J. Huffman

lingering at the edges of
a bed that may or may not still be
ours, we play at normalcy (whatever
that means). Not touching as we make
menial conversation about our day's
banalities. Both afraid to cross
that intangible line we have drawn
down the center of our lives. Finally,
a word is whispered, the latest lie.
It hovers above us for a prolonged
exhale, a moment
we both force ourselves to swallow
in silent dark.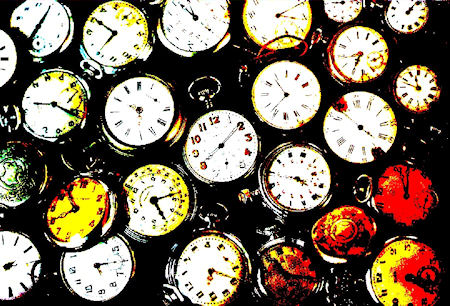 STILL LIFE WITH TIME by Fabio Sassi
ODE TO A FERTILE PLAIN
by James Ducat

Halfway down a beer bottle,
in song, my ass sculpted
by the small of your back,

still, I want the math teacher —
not my math teacher, one I work with.
I haven't taken math in decades.

She says sex without intensity
is bullshit, although I think she meant
without abiding love —

you are not afraid
of her mouth on me
but of her mind gyrating in mine,
like when I insisted there is never

one right answer, not even in math
and the math teacher nearly cried
then we went out for a cigarette
and you stayed in. You don't smoke.

Must be a koan —
coexistent desire,
tempo mediates malaise.

You are a halting-step genie —
your uncooperative left leg stumble
outruns any bump 'n grind —
and I don't see nothing wrong.

Even the heat of your temple
against my stomach,
your nails across the underside.

Let's leave in a gravel-spitting wheel spin.
But not like Thelma and Louise —

unless that means you bucket-brigade
self-consciousness and ride off a cliff.

Not a literal cliff, just the wall-edge
of house arrest. That would be cool —
not explosive silence undetonated.