A JAY IN THE CANE
by Carol Louise Moon

Today, the same as someday,
splattered silver drops of spittle
line the driveway from my rooftop.
I walk with silver cane
now easy—steps I take are short
because I care. Suddenly a loud

bird calls my name, the same loud
jay who often chastens me. Someday
I'll let him know this house, though short,
belongs to me not him—his spittle
attitude a spit away from mine. My cane
above my head toward rooftop

I'll declare "It's mine—the rooftop
included, Mr. Dive Bomb"—a loud
loud noise I'll make. The bamboo cane
in which he likes to hide . . . someday
I'll cut it down! With spittle
on my palm I'll ax it short.

For now these short short
days, the chill and ice on rooftop
makes me watch for him. The spittle
from the roof, the loud loud
noise, the flash of blue I miss. Someday
he'll fly away from Bamboo Cane.

And, meantime, I with cane
will walk the yard—the short short
distance that it takes. And someday
when my rooftop
dries, and spring is here aloud
with hawks and bees, the spittle

in my mouth will dry, as spittle
tends to do with age and cane—
in-hand—I'll cry aloud:
"Don't leave me short,
you Dive Bomb bird on our rooftop!
You know someday

when I am left in spittle in my own short
grave, and cane is taller than the rooftop
"you will cry aloud, Again, again someday."







AMARYLLIS AND THE FLICKERS
by Carol Louise Moon

With my trowel I'm tapping,
clumps of soil dropping. I have found
my earthworms to transplant in flowering
flower beds. I shouldn't
waste these precious purple
lives, squirming here in sunlight

much too bright. Two new flickers light
on front yard tree trunk bark, tapping
tapping to a purple
jazz. One has notified–and one has found
the other shouldn't
be harassed. Flowering

Amaryllis–exhibitionist–flowering
naked lady in the spot light
now. Fine with her; we shouldn't
miss a work of art, a drama queen! Tapping
tapping flickers haven't found
what they are looking for. Purple–

headed finches (a purple
of exquisite pink) compete with lady flower.
Things in awnings they have found
to make a nest in light–
blocked blue-gray shade. Now tapping
on my windowpane, it shouldn't

take too long to choose . . . shouldn't
take our purple
birds too long to rent a home–if tapping
flickers and flowering
naked ladies in this violet light
are not too decadent. A new found

friend, this patient slug, has found
a shaded spot that shouldn't
be his danger zone. This evening's light
reminds me of the winsome "Deep Purple
Haze," And there, a sunset–flowering
flower that rivals all horizons! I've heard tapping,

tapping in my dreams; found all that purple
matters should be the flowering
rays of light on days of tapping tapping . . .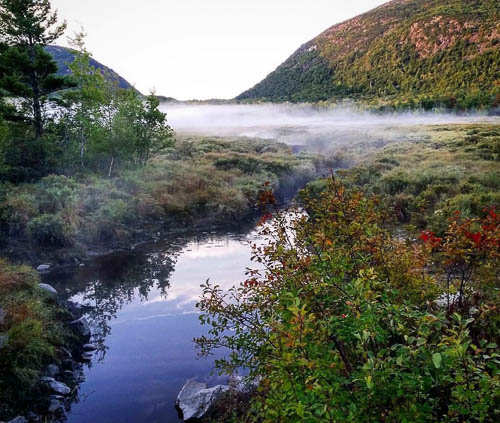 ENTER by Kristie Brown Gripp
CRACKING
by Yuan Changming

Between two high notes
The song gives a crack
Long enough
To allow me to enter
Like a fish jumping back
Into the night water

Both the fish and I leave no
Trace behind us, and the world
Remains undisturbed as we swim
Deeper and deeper in blue silence

Upon my return, I find the music
Still going on, while the fish has
Disappeared into the unknown