GRIM REAPER
by Timothy Pilgrim

Stuff of executioner, what
makes her tick?

Steady hand, piercing gaze —
iced lemonade in veins?

Does she dream of home,
children, relaxing run,

garden beans, morning sun?
Begin to cry

as she beheads
serial killer, former lover,

enemy of state? Or,
toss hood aside, text fate,

drive her hybrid, naked,
past graveyards late at night?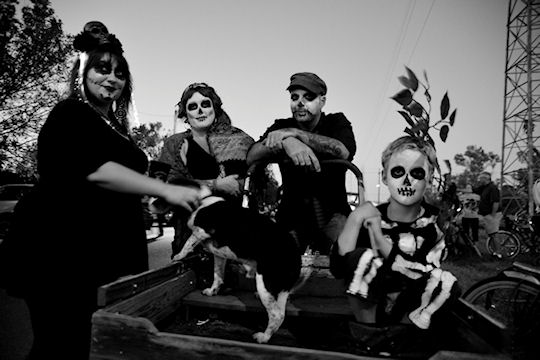 MUERTOS FAMILIA by Myles Boisen
4 AM
by B.Z. Niditch

French bread
resembling a
quarter moon
murdered
on the granite table
an hour ago
by the tentative night

The artist
drawn to exhaustion
of a lost landscape
in solitude
clothed
by sleeplessness.









AFTER NIGHTFALL: Candlelight Vigil for Chi Cheng by Allyson Seconds
CAPITAL LOSS
by Frank De Canio

If once upon a time I told
myself adventures that were bold,
I learned to settle down in life,
exchanging violent storms and strife
for sober worlds that compensate
frustrated longing for a mate
with social ties I stood to gain
in time. Now that my fortunes wane
I find no reason to withhold
those fancies which, though grey and old,
resume their stranglehold on me
with an inflated currency
that drains the pittance I have left
and leaves me with its sum, bereft.