BEATING HEART BEATING
by Aaron Kent

Give your audience live commentary
in traditionally social situations –
order complicated coffees
and buy your weight in vinyl records.
I have never seen Elvis on Sunset Boulevard
but I have seen Nikki Sixx try to siphon
sunlight into his veins. Soya latte and all.

I have a heart, and it screams
for a beating heart beating a beating heart.
I tried to paint it in bright colours,
flecks of Jackson Pollack's entrails.
Gave it some life. Told it to go fuck itself
in the early hours when my ear drums
lose the rhythm section.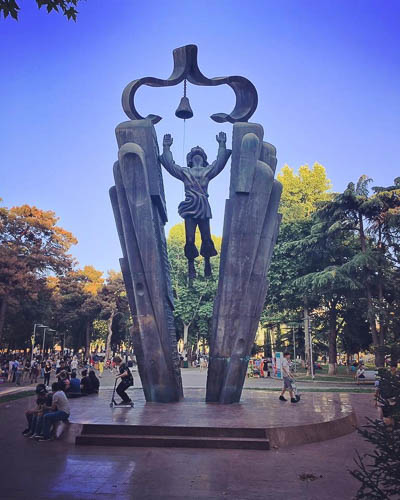 ALL ROADS LEAD TO TIBILISI, GEORGIA
by Baxter Jackson
ON THE WHEEL
by P.M.F. Johnson

She's a future creature,
this gaunt fortune teller
in black silk scarf,
double-hoop earrings
and tennis shoes.
She rearranges the deck
so nothing can pop up
reversed, but she
swears an honest reading.
Doing the cards for you
her interpretation flips
to her own concerns,
all the world a return
to herself. Done once,
she jams the deck back
together, instantly starts
another spread, desperate for . . .
what? That her kids might
magically change? Her cluttered
art in that greasy gallery
will start to sell?
The hard cards are anything
but mute, they reveal
coin disappointments,
love's lethargy, someone's thumb
on the cosmic scale.
She crushes out her cigarette
with a dissatisfied hiss,
starts another reading,
intent on rendering back
under her control
all parts not bliss.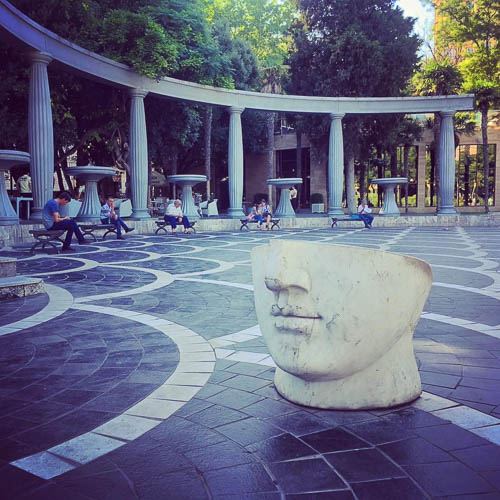 FOUNTAIN SQUARE, BAKU, AZERBAIJAN
by Baxter Jackson
SEVERAL SUPPLE WEASELS
by Timothy Pilgrim

weave like your memory, sleek,
through trees, find slippery ways

to avoid the rain, slink away
deep into murky streams.

Leave me dazed, confused,
ready to believe amygdalae,

the almond-shaped mass
in each cerebral hemisphere,

gray matter steeping the brain.
Make me embrace emotion,

whether or not I want,
like anger, hate, this sly pain.





CLEVELAND HAIKU #171
by Michael Ceraolo

A metallic spider web–
the fly stuck
in the window screen