SUNSHINE
by Holly Day

She puts the pillow over his face and prays
it'll be as easy as the shows she's seen on TV.
He pulls it away, laughs and tells her he still has to go
she is no match for him tonight. The moon
lights up the fields outside, all around the house, and she
and this house are a plague ship on a dead sea
there is no reason for anyone to stay here, even if only
to ride it out until the next town.

Alone, she imagines he's kissed her goodbye, on the cheek
soft as a little girl's whisper, an echo of sunset.
When she brings him the baby, he won't ask
about the random things he's left behind at her house
the other men's shoes in her closet.
When she comes to his house
swollen with starlight,
he won't be able to slip out the door as if
she is nothing but air.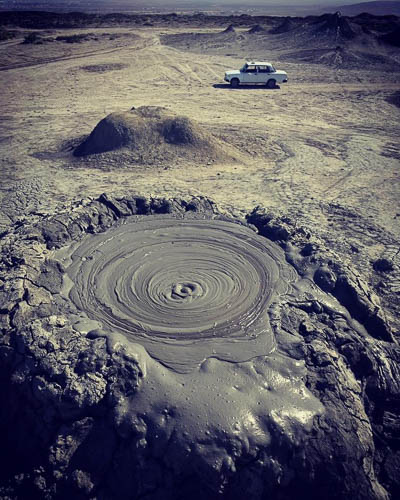 PALÇIQ VULKANLARI BAKU, AZERBAIJAN by Baxter Jackson
GLASS IN A HAND DESCENDING
TOWARD A COFFEE TABLE
by Sharon E. Svendsen

The argument it lost, but still the glass—
its contents leaping up and out—descends
in hand—a man's hand—drives glass,
ice, whiskey and water into the wooden table.

Fluid spatters, jagged fragments fly—
Blood drools from the crashing hand—
now trembling in its pool of chaos.

I stall inside, caught in a crosswind,
spin toward the self now shattered in the shards

but I brace back, pull up my nose,

restart my engine. There must be
700 different ways to fly out of a storm.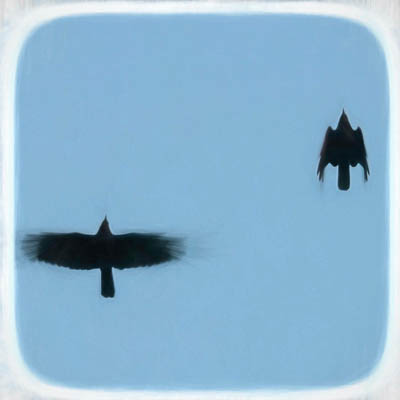 UP by Ruben Briseno Reveles
WIND BULGES
by Diane Webster

Wind bulges into the shirt
hanging on the clothesline
and barges out the collar
like a superhero escaping
cape's choke hold to fly
incognito through tree limbs
quaking violently in the wake,
and fallen leaves swirl
in tornado stirrings
like hands of the crowd
waving for favors
when hair gusts over eyes
that no longer see
and wonder if they saw
at all that flight of superhero
micro-bursting like newspapers
plastered around a stop sign.